Celebrating over 30 years of exceptional clubbing
Whirl-Y-Gig embodies the spirit of community in a carnival atmosphere. Bathed in rainbow rippling lights and wrapped in exotic décor, it is a spectacular festival of delights for people of all ages and places.
Celebrating over 30 years of exceptional clubbing and currently based in Hackney Wick, Whirl-Y-Gig is a shining beacon in the alternative London club scene.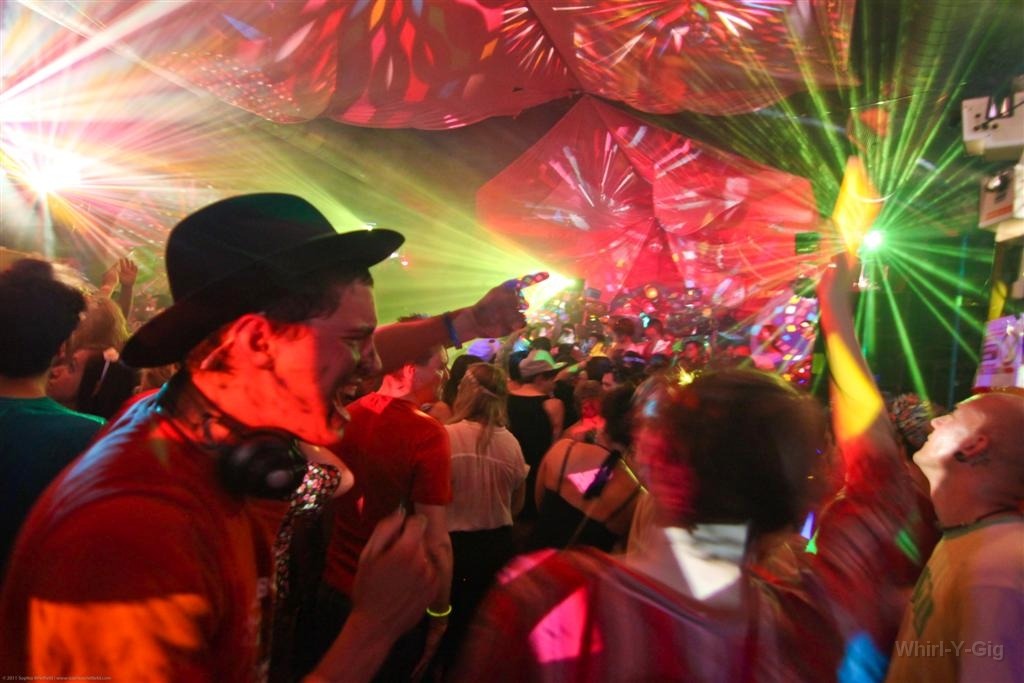 Fairy-tale voyage
Dance to the Whirl-Y-Beat and journey on a fairy-tale voyage through Whirl-Y-Gig's unique electronic landscape with the omnipresent DJ Monkey Pilot as your guide, where many diverse elements blend into one cohesive and unifying experience.
From deep dubstep to funky drum & bass, tropical house and tribal beats, glitch-hop and uplifting trance, psybient to psytrance, the Whirl-Y-Mix embraces hints and flavours of Celtic or global, classical or psychedelic, rock and pop, roots and radical. Whether it be African or European, Arabic or Asian, Whirl-Y-Gig finds inspiration from around the world.
Melting pot of creativity
The regular crowd of Whirlygiggers are warm and welcoming and the stewarding is professional, friendly and caring. From the moment you walk through the doors through to the legendary parachute that culminates the night, Whirl-Y-Gig is a bubble of positivity and a melting pot of creativity where one can escape the burdens and prejudices of day to day life.
A moment difficult to miss
Whirl-Y-Gig is an event difficult to describe and a moment difficult to miss. With a strong and loving life force, the Whirl-Y-Sound is a musical heartbeat for a future global family.
Monkey Pilot gives answers to interview questions about Whirl-y-Gig's history and ethos. whirl-y-gig.org.uk/monkey-musings

Read reviews about Whirl-Y-Gig, including NME, The Guardian and Time Out Magazine. Read more »

Various interviews with the elusive DJ Monkey Pilot, where the source of his DJ name is revealed, the history of Whir-Y-Gig is discussed and the inspirations behind the fairy tale are laid bare. Read more »

Various accounts from Whirl-Y-Gigers as they share their first time experiences of the magic that is Whirl-Y-Gig. Read more »