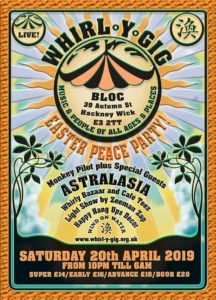 Whirl-y-Gig's Easter Peace Party at BLOC opens early from 10pm with special guests the legendary Astralasia. They will be exclusively previewing material from there long awaited forthcoming album which has been reported as seeing the band return to the dizzy heights of their early dance floor anthems.
Whirl-y-Gig embodies the spirit of community in a carnival atmosphere. Bathed in rainbow rippling lights and wrapped in exotic décor, it is a festival of delights for people of all ages and places.
Dance to the Whirl-y-Beat and journey through Whirl-y-Gig's unique electronic landscape, where many diverse elements blend into one cohesive and unifying experience. From deep dubstep and hot drum'n'bass to tropical house and tribal trance, the Whirl-y-Mix embraces hints and flavours of celtic or global, classical or psychedelic, rock and pop, roots and radical. Whether it be African or European, Arabic or Asian, Whirl-y-Gig finds inspiration from around the world, yet is rooted firmly in the here and now of London's alternative club scene.
Whirl-y-Gig is an event difficult to describe and a moment difficult to miss. With a strong and loving life force, the Whirl-y-Sound is a musical heartbeat for a future global family.
"Whirl-y- Gig has been in existence since the 1980s and for very good reason, for a fun filled, amazing night with great music and people it is without a doubt the place to go in London."(Rock Industry June 2016)
"The intense atmosphere, the diverse clientele, that constant intimacy and openness – this is the way that Whirl-y-Gig has been since its inception in the 1980s."(Vice January 2016)
How to get there:
• Address: Unit 3, Autumn Yard, Autumn St, Hackney Wick, London E3 2TT
• Nearest train: Hackney Wick (Overground) & Pudding Mill Lane (DLR)
• Best bus: 339 stops at the end of Autumn Street – from Shadwell, Leytonstone, Mile End, Roman Road & Stratford.