They say it's probably the most visionary club in the world… I say, without a doubt. Wonder and excitement fill your senses as the swirling incense entices you through the door and into a world that oozes with psychedelia and begs to be explored; much like discovering Aladdin's cave.
Aha! Whirl-Y-Gig! I may have gushed about this place before but I really do feel it's worth the accolade. Whirly is a once monthly dance event held at Jacks nightclub in London Bridge. It's been going for as long as I've been on this planet, and it's the loveliest club in London.
The evening begins with a walk down a narrow corridor, lit with ambient psychedelic colours. It opens into the chill out room, which continues the psychedelic theme. There are brightly coloured materials strewn from the walls, ambient lights everywhere, and psychedelic oil lights making kaleidoscopic patterns on the walls. Here and there an image is projected, a faerie, a flower. Around the room are low comfy seats and tables, a stall selling glow sticks, CD's, and fair trade goods, and a little café bar that provides tea, fruit, and cakes throughout the night. The ambiance of the place was the first thing that struck me, it manages to feel both comforting and exciting at the same time.
Whirl-y-Gig is a magical club, in London, where global vibes collide with uplifting trance, drum 'n bass, breakbeat and ambient dance, all fused together by DJ Monkey Pilot. Under the comfort of the giant pink parachute in the roof, the whole environment is adorned by beautiful saris and wall hangings, all of which are bathed in a radiant spectral delight by Zeeman Zap light show. Visually the Whirl-y-Gig nights are spectacular adding a carnival atmosphere and complemented by a broad range of musical delights.
"The man in the Viking helmet is smiling as the two pre-school nymphets encircle him in a paganesque dance. Another case of some sleaze ball sicko corrupting young innocents or perhaps something even more sinister, more sordid ? No, no, no ! Mr Viking, it transpires, is bopping with his daughters. Everything is not as it seems at one of the most influential events in club history.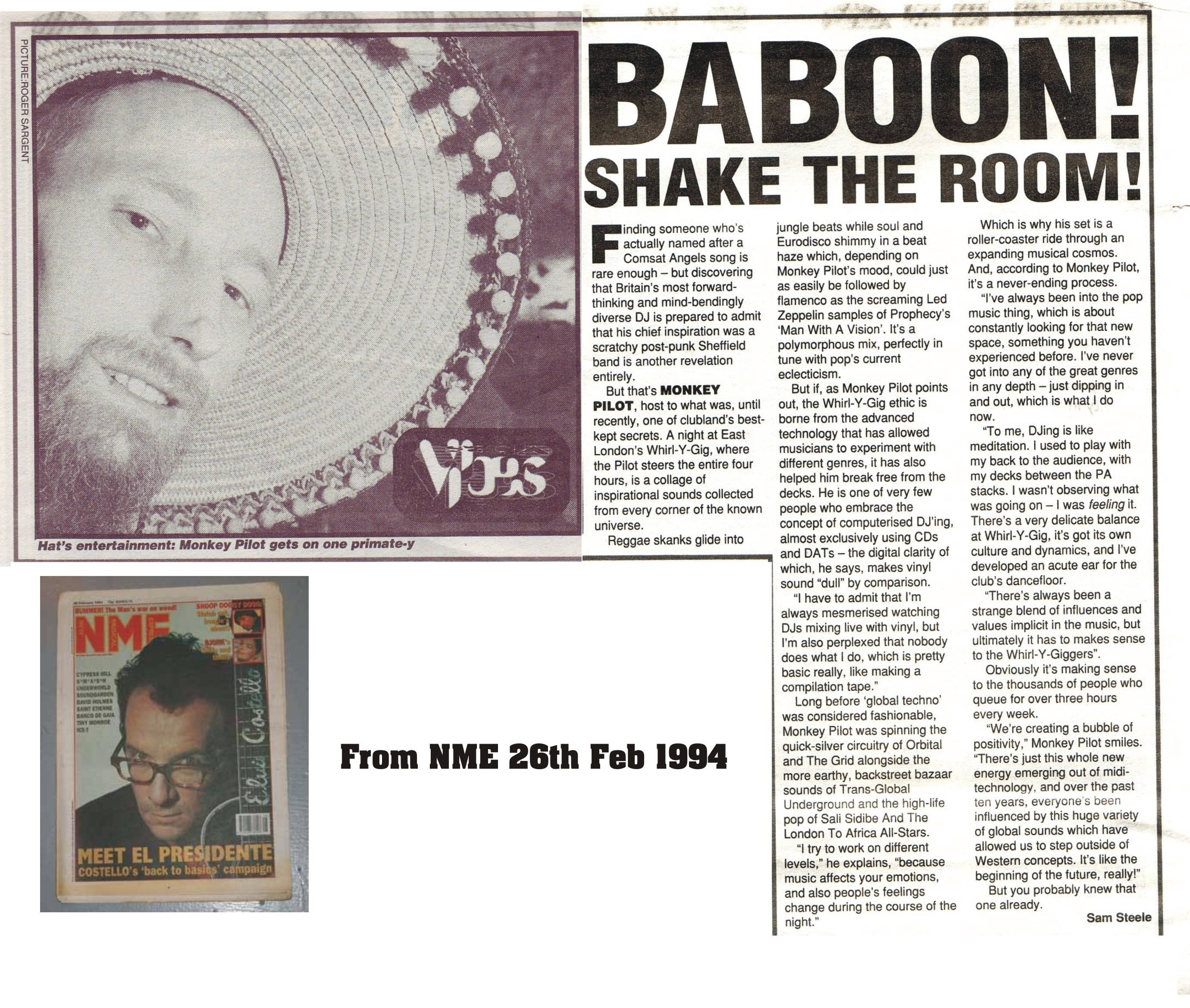 Finding someone who's actually named after a Comsat Angels song is rare enough – but discovering that Britain's most forward-thinking and mind-bendingly diverse DJ is prepared to admit that his chief inspiration was a scratchy post-punk Sheffield band is another revelation entirely.
But that's MONKEY PILOT, host to what was, until recently, one of clubland's best-kept secrets. A night at East London's Whirl-Y-Gig, where the Pilot steers the entire four hours, is a collage of inspirational sounds collected from every corner of the known universe.